After the devastating fire left El Greco restaurant blackened and burnt, it was a challenge for the owners to get their business back on track. Thankfully, the popular eatery's loyal customers returned in droves – and its business insurance cover meant all was not lost.
Sarah Newson and Kostas Grigorakis' success with their Greek and Italian restaurant, El Greco, came to a devastating halt in June 2020.
Cleaning rags that had been commercially cleaned were to blame for the fire which destroyed the restaurant. The washed and dried rags were put into a plastic bag and dropped off at the restaurant in the afternoon, as was always done.
"On this particular occasion, the static caused smouldering, and the smouldering snaked its way through and burnt a hole in the plastic bag. Then it just exploded," says Sarah. "It took out the whole kitchen. The rest of the place was heavily smoke damaged. Neither Kostas nor I knew anything about self-ignition."
Also known as spontaneous combustion, self-igniting fires are often caused by oily or greasy fabrics that become flammable with heat and static. And unfortunately, it's not a rare occurrence. Luckily, El Greco's two neighbouring businesses were protected from the fire damage by separating firewalls.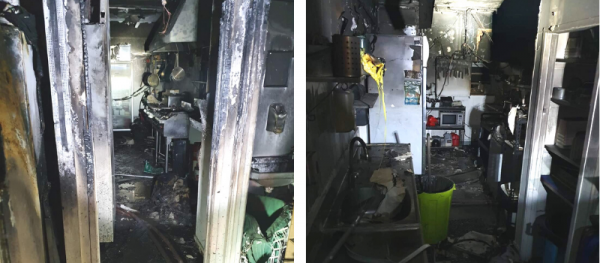 Support when it counted
On the night of the fire, Crombie Lockwood insurance broker, Richard Livingston, was immediately on the phone activating the couple's claim and sending over a security guard to secure the property. Myles Noble, Head of Insurer Relationships & Broker Claims, also stepped in to help the couple through the insurance claim and avoid delays, alongside Loss Adjuster Margaret Wallace from Crawford & Company.
"In an exceptionally emotional time when you lose your livelihood like that and you don't actually really know which direction you're supposed to be pointing in, Crombie Lockwood were sympathetic and gave us the time," says Sarah.
An influx of support also followed from the local East Coast Bays community.
"[Customers] were coming down to us and saying 'I'll come down on the weekend with some gumboots and gloves, and I'll help you strip this out'.'"
To maintain a presence in the community and mitigate their losses, they opened the El Greco Box food trailer which proved very popular, ahead of the main restaurant's grand reopening.