A pathway to the aviation industry
For many aero clubs, the Young Eagles initiative forms a cornerstone of ensuring that the next generation of club members, commercial pilots, and aviation specialists are coming through.
"The aero club movement is very important for the aviation industry because it's the Young Eagles who are the future of aviation in New Zealand, as far as pilots are concerned," says Crombie Lockwood Aviation Specialist, Arden Jennings.
Beyond flying itself, Young Eagles participants have the opportunity to meet and speak with aviation professionals – from commercial pilots, to engineers, to Royal New Zealand Air Force personnel – about what they do and how they got there.
"Crombie Lockwood co-sponsors the Young Eagles programme because we see it is a way we can assist young people to get into aviation," says Arden.
But at its core, the Young Eagles programme is more than just a way to get Kiwi kids up in the air.
"What you have here is a social dimension, it's a place where people want to be: to chat and exchange stories with friends, rather than go through a high-pressure learning environment," says John Brandon.
An engaging experience
Harry Cooper is a young Aucklander taking part in the Young Eagles programme through the Auckland Aero Club. It has helped him distil exactly how he wants to make the most of his enjoyment of aviation.
"A few years ago, I was selected for the Young Eagles and now I'm really embracing the aviation industry and flight training myself and attending events with the Young Eagles," he says.
"After the Young Eagles programme and school, I am hoping to join the Air Force and be a pilot for the Super Hercules aircraft that they have delivered. I think that would be a really cool job for the future."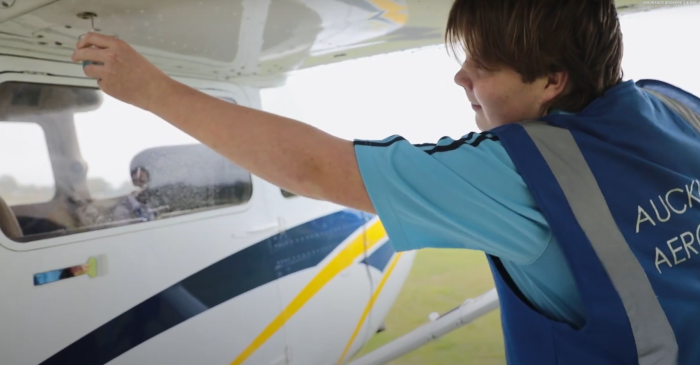 Specialists in aviation insurance
Crombie Lockwood has had a long history of providing specialist insurance advice to the aviation industry. There is a wide breadth of experience across our aviation team, which advises clients in New Zealand and throughout the Pacific in managing risk and offering guidancefor all sorts of businesses.
"Being aviation focused, our clients vary from engineers to airline pilots, but also include a lot of aero clubs, light aircraft, sport aircraft, helicopters, gliders. We service the whole range of aviation," says Arden.
Most general insurance policies exclude aviation-related activities, but we can offer insurance developed specifically for businesses connected to the industry.
"Crombie Lockwood now have a group of specialised aviation insurance brokers. And the importance of that is, that they know not only just to insure aircraft but all the other covers that are required. That makes the Crombie Lockwood specialist aviation side very important for the peace of mind of our clients in the industry," concludes Arden.