Members of the Crombie Lockwood Timaru team lent a hand at Fairlie's Moreh Home during autumn, helping give the building and grounds at the aged care facility a pre-winter spruce up.
Established in 1979 in the small South Canterbury town of Fairlie, Moreh Home was opened to care for locals who were frail and isolated, with residents donating what they could to stay there. Co-founder Alison Neill only retired from working at Moreh Home in January this year.
"Alison wanted to help people who had nowhere else to go," says Crombie Lockwood Timaru Administration Manager, Carol Hobbs. Moreh has been an amazing facility for the community, helping people to stay in the area they know and love."
For the last 42 years, the home has survived from the support of the rural community; locals regularly dropping off produce and donating their time and energy to keep the facility operating.
Helping out a long-term client
Carol says Timaru staff members decided to lend a hand at the long-term Crombie Lockwood client's property, to help them get ready for the cooler months ahead.
Dividing themselves into two teams of five over two days, one group worked in the garden – digging, cutting back, pulling weeds – while a second group completed a thorough spring clean inside the home.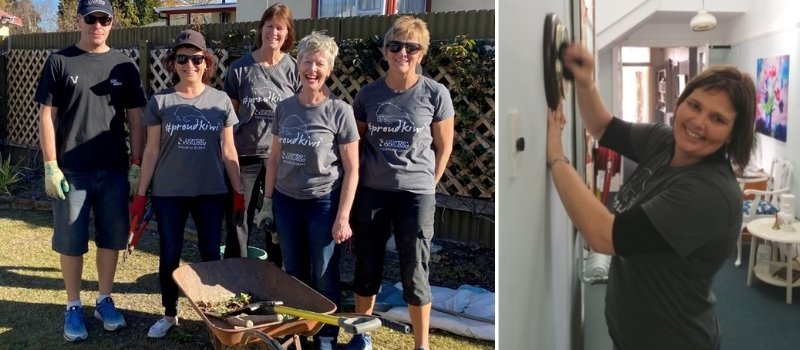 Lewis, Carol, Sharon, Anne and Rosie tackled the garden, while Rebecca worked inside Moreh Home
"It was very satisfying to go in and see something that looked a bit rundown and to come away at the end of it thinking "Wow, that looks really good!" We achieved a real 'before and after' makeover," says Carol.
She says the residents were blown away by the transformation outside, coming out to help rake up leaves and chatting with the Crombie Lockwood team as they worked.
"To say they were happy with our efforts is an understatement," Carol says. "They were so thrilled and appreciative. Everyone came away with a great feeling of a job well done for such a worthy cause."
A parting gift for Moreh Home
In mid-June it was announced that Moreh Home would close, primarily due to increasing operational and maintenance costs. Mackenzie District Mayor, Graham Smith, told media that Moreh had been a "wonderful caring home", but it was not sustainable going forward as government regulations meant it could not continue as it had in the past.
Graham said there was now more of a move to keep people in their own homes for longer. The care model has evolved in recent years, with more older people buying their own retirement units within an established community hub and transitioning to hospital-level care as required.
Regardless of the recent news, the Crombie Lockwood Timaru team remain proud to be able to get out into the community to assist facilities such as Moreh Home.
Other organisations Crombie Lockwood Timaru have spent time assisting include St John and the New Zealand Raptor Trust who are also a client. While the team is always busy, Carol says it's important to get out and help the community too.
"We definitely came away feeling very good," Carol says of their time at Moreh Home. "It's such a great feeling knowing you've helped [an organisation] like this."
"Moreh has been an amazing facility for the community, helping people to stay in the area they know and love."
Carol Hobbs, Crombie Lockwood Timaru branch.