Over a decade ago, owner-operators Trudi and Andrew McHale launched Shed Central in Taupo and have been constructing expertly made, custom-crafted sheds across the region ever since.
Trudi says what really sets their business apart has been the fact both she and Andrew work in it.
"Andrew needs everything to be perfect; everything has to be lined up and detailed properly," she says. "He's on site with the staff on the ground and I'm in the office. So, either way, there's always an owner present."
The couple has a team of eight alongside them and construct between 20 and 30 sheds per year, from large commercial sheds to storage sheds, garages, barns and more.
Smart expansion
But Shed Central is just one wing of the business.
"As we grew Shed Central, we started getting machinery for certain tasks. It was sitting around the yard, so I thought 'Why can't we hire it out?'," Trudi says.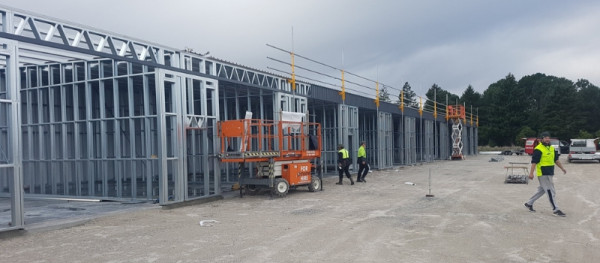 It was a clear expansion opportunity for the duo and so McHale Hire and Concrete Cutting was born.
Today, it has grown into a full hire company that caters to the professional trades, rather than the general public.
Long-term support
The McHales have worked alongside Crombie Lockwood Taupo broker, Andy Jensen, for all their insurance needs since the beginning.
"When we first started out, we had very basic insurance but as we grew, we got more advice from Andy and more insurance to cover everything. Now our assets are quite huge, so he keeps an eye on it all."
- Trudi McHale, Shed Central co-owner/operator
When Matt Jensen Insurance Brokers was acquired by Crombie Lockwood in 2021, Trudi says she and Andrew understood it was a way for Andy and brother Matt to not only solidify their own business longevity but to allow their clients to tap into a larger pool of support and products.
"It was also security for us as a client," she adds.
Andy Jensen has also been entrusted with looking after the couple's personal and health insurances. Naturally, when Trudi's son Jayden Joll established earthmoving company Dirtworx Taupo in 2019, she recommended her son follow in their footsteps with regard to his business insurance.
In a way, the two Taupo-based businesses have grown together, says Andy.
"They were understanding and supportive when we reached out to let them know we were making changes to our business.
"It's been a privilege to witness Trudi and Andrew grow their business over the years. We've worked closely with them and over time we've developed a great working relationship," he concludes.