Celebrate art, save the kiwi
20 colourful kiwi sculptures designed by local artists celebrating our iconic national bird are set to be auctioned, with proceeds going to Save the Kiwi.
Kiwi made a surprise appearance in downtown Auckland recently, with 20 colourful and larger-than-life kiwi sculptures featured around city streets as part of the Kiwi Art Trail.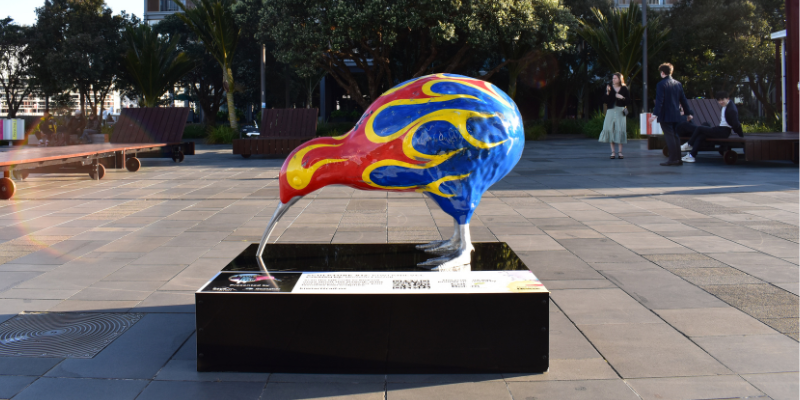 Kiwi Knievel by Weston Frizzell
Organised by Save the Kiwi and Gallagher, the Kiwi Art Trail showcased unique art from upcoming and well-known Kiwi artists, including SWEATS, Flox, Otis Frizzell, Amanda Billing and Mike Weston.
The trail was an innovative way of highlighting the challenges facing our iconic native bird. At the end of the three week exhibition, the sculptures will be auctioned on 21 November and proceeds will go to supporting the Gallagher Kiwi Burrow. This facility, which is managed by Save the Kiwi, incubates and hatches kiwi chicks and releases them into the wild when ready.
Save the Kiwi Marketing and Sponsorship General Manager, Ross Halpin explained the upcoming auction is a great opportunity to purchase one of these amazing pieces of art and support the charity at the same time.
"Visit www.kiwiarttrail.nz to register your interest if you'd like to bid to own one for yourself, or to vote for your favourite kiwi and be in to win a trip for two to the Gallagher Kiwi Burrow."