16 July 2020
Fire puts restaurant in hot water
Whanganui restaurant Thai Villa had to close its doors for four months after a fire took over the historic building next door in 2019. Their insurance not only covered their physical damage but absorbed some of the demolition costs and the income loss they suffered.
The owner of Whanganui's Thai Villa restaurant in the centre of town, Pitsami Evans, knows all too well how forces beyond her control can put a stop to a business' livelihood.
Back in June 2015, floodwater washed through the premises, closing the restaurant for two months. Crombie Lockwood Whanganui Broker, Teresa Falk, walked Pitsami through the flood claim. And in 2019, they had to do it all again.
"Last year there was a major fire in a historic building in Victoria Avenue, which was a three-story brick building," Teresa says of the July 2019 blaze.
"It had quite a big impact because it had not long been bought with the idea of trying to restore it."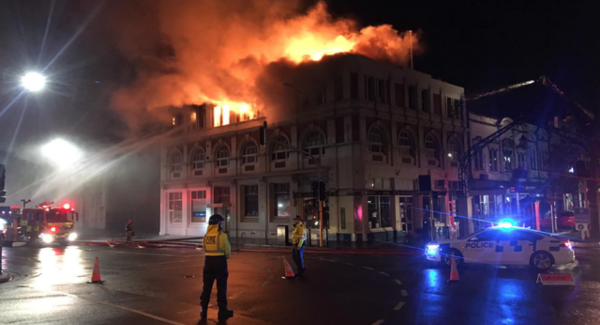 Directly next door to the famous 1908 Thain's building, Thai Villa was faced with the run-on effects. Along with internal and external water damage, their industrial chiller was affected, and they lost stock as the power and gas had to be turned off.
While Pitsami managed to get into the building initially to get carpet cleaners inside to remove the water, another set of problems soon cropped up as Whanganui District Council blocked off the surrounding area, citing safety concerns associated with the required demolition of the Thain's building.
"It meant that Pitsami was unable to go into the building because it was deemed dangerous; the Council had a prevention of access on quite a big area," Teresa explains.
But works dragged to a halt, with only one wall left to be pulled down, prolonging Thai Villa's return to trade.
"Because it was only one part of the building still to be demolished, nobody could agree who was going to pay for it," Teresa explains.
"For the sake of about $8,000, it was costing Pitsami $1,000 a day not to be open."
Thanks to cover arranged with Crombie Lockwood when starting the business in 2012 though, there was a silver lining.
"Our claims team found a way for it to be paid by Pitsami's insurance, so we could get her back in there trading again," says Teresa.
By paying the disputed demolition cost, it minimised the overall claim Thai Villa was looking at if trade remained impossible, and critically before Christmas and the summer months - their busiest time of year. On top of having material damage insurance for their stock and plant (for the chiller and food waste), Thai Villa had business interruption insurance via SmartPAK.
This innovative insurance product pays out a maximum of $100,000, compared with $31,200 of coverage payable under standard insurance.
As of November 2019, Thai Villa had received $55,000 and were looking at an additional $26,000 to be paid up until the end of November.
"If we'd had different insurance in place, the chances are the amount of cover that the owner had would have been exhausted before we could get them back in business," Teresa says.
"They've been able to use the business interruption cover not just once, but twice. Without that, they probably wouldn't have been able to reopen."
As Teresa puts it, it's hard enough to be in business as it is, let alone survive a significant event.
"I think our customers always think about the damage that could happen to them; they forget about the damage that could happen to them because of the building next door," Teresa says. "The unexpected isn't always what people will think it will be. Thai Villa was just caught up in something outside their control."
Thai Villa opened its doors once again in November 2019. "We went for dinner on their first opening night to show support, and wash dishes if we had to! Pitsami was very happy to be back up and running," Teresa concludes.