Arataki Honey's bees do a lot more than just produce honey as well – naturally, bees also pollinate. Arataki Honey provides hives to orchardists and commercial crop growers to help transfer pollen between flowers, enabling the production of seeds and ultimately fruit. And for an agricultural region like the Hawke's Bay, that's a big role to play.
"It's a big part of what we do," Genevieve continues. "The value of that to New Zealand's GDP is actually more than what the honey is worth, so that service is quite a big contributor that can often be overlooked."
A sweet partnership
"Since teaming up with Crombie Lockwood around 2006, our insurance has been much smoother and easier to organise," says Arataki Honey Director, Pam Flack. "Our broker Adrienne has been working with us a long time and has a huge knowledge of what we do and what our insurance needs are."
For Pam it's the friendly, professional, skilled nature of those at Crombie Lockwood that makes Arataki Honey's insurance needs easy to manage.
"Crombie Lockwood helps us arrange insurance for all aspects; from working in forests, to food safety and exporting honey around the world. They know the market and work to get us the best insurance cover at the best price for us."
Pam Flack, Director Arataki Honey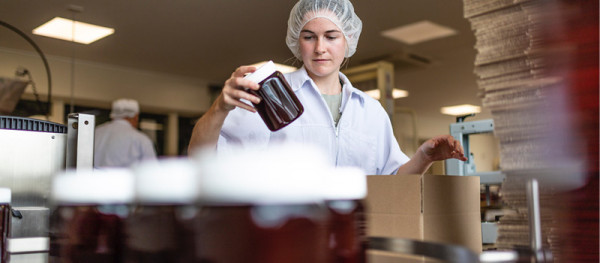 Insurance that evolves as Arataki grows
Insurance broker Adrienne Heney of Crombie Lockwood Hawke's Bay branch says understanding the value of Arataki Honey's assets is important for her to be able to recommend the right protection. She knows just how long the family business has been running and steadily growing.
"Arataki have invested in valuable plant and machinery, together with the buildings housing this equipment, so this needs to be insured correctly," she says. "Likewise, the volume being produced that is now travelling and being sold throughout New Zealand and around the world needs to have the correct liability cover in place to protect their investment."
While the odd challenge or road bump can crop up, like when a truck rolled into a ditch three years ago, there is always a plan in place to weather it.
"I put it down to the way they manage their business, and the fact that they've got passionate people behind it," Adrienne concludes. "Arataki take the extra care and precautions to avoid controllable risks to their business."