Insurance solutions crafted for breweries
In order to help manage risk while maintaining its successes, Sprig + Fern Brewing Co. use a specially designed brewery insurance solution arranged by Crombie Lockwood. Catering to the ins and outs of this specialised industry, coverage includes contamination risks, machinery breakdowns, and even relabelling costs should anything go awry.
"Having a specialist insurance solution helps Sprig + Fern Brewing Co. get the best outcomes," says Crombie Lockwood Nelson broker, Hamish Kent.
"For example, many food, beverage, and manufacturing businesses use specialist panelling for chilling product. The panelling is made from expanded polystyrene and can be combustible, so it creates several issues for insurers. But we were able to accommodate this within our insurance solution for the Sprig + Fern Brewing Co. team."
"The chiller panels have always been a talking point when it comes to insurance, and that's been well explained to us," says Tracy.
"We've partnered with Crombie Lockwood for many years now and they've been great as they understand how breweries operate and the need for some of the specialist materials we use"
Tracy Banner, Head Brewer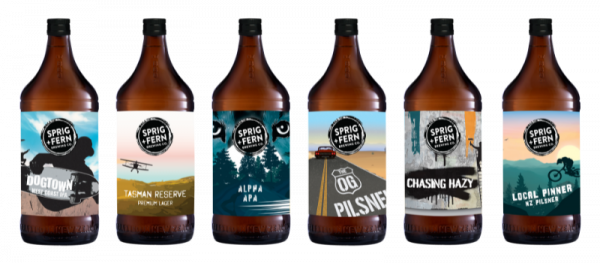 Consistency in the craft
The craft beer market is a fast-paced industry, with producers needing to jump on board with the latest trends, whether that be a hazy-style brew, a sour beer, or a fresh new look altogether.
"You can't stand still; you've got to come up with new products, new looks and be on trend," says Tracy. "Who would have thought we'd be doing a brand refresh four years after our last one? But that's how quickly the craft beer market is moving."
While a cool label might get patrons' attention, it's what's inside that keeps them coming back for more.
"We live and breathe quality and consistency," she says. "Whether you're drinking Sprig + Fern beer in your local tavern from an 888ml bottle in the North Island or a 330ml can in a café in Christchurch, we want it all to taste the same."
For Tracy, having an award-winning brewery business comes down to her experienced team crafting well made, drinkable beer.
"It's something you've always got to work on. It's hard work. A lot of smaller breweries have come and gone. You've got to keep evolving because if you don't, you're going to be left behind."