Amie-Jo has revived the destination venue with a "back to basics" approach. The freshly renovated café, formerly Founder Brewery incorporates a vintage vibe that's in keeping with its location in Founders Heritage Park. It's locals who can enter the park for free that were front-of-mind for Amie-Jo. But she also wants the café to appeal to all visitors to Nelson, including international tourists when they can eventually return, for which Founders Heritage Park has long been a drawcard.
The location is a bustling hive of activity, where the Nelson Railway Society train takes visitors on a scenic ride and there 's an old Bristol B170 Freighter plane to investigate. There is also a maritime museum, artisan shops, live music events and plenty more. But everyone replenishes at Founders Café.
"We used lockdown as a time to rebrand, repaint, get new furniture, and refurb the entire building with the landlords," she says. "What I've done is just take it back to what it was; we've got a great range of craft beers on tap, Kono wine through the local iwi, barista-made coffee, and great New Zealand comfort food. People come and they don't just stay for 10 minutes; they stay for two hours. And they come back again too, which says to me we've got it right."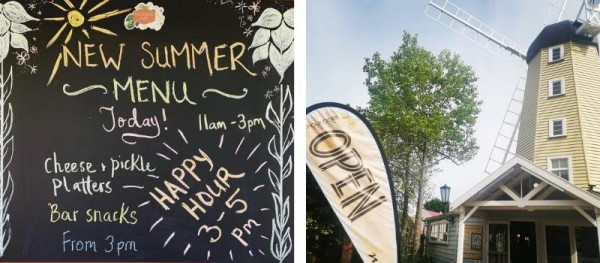 Insurance advice through uncertain times
Despite the positive refresh the Founders Café has experienced, the continuing uncertainty of COVID-19 and its impact on the hospitality industry means Amie-Jo took the decision to go back to teaching for extra financial security.
And before the latest national lockdown, Amie-Jo's evenings were often spent cooking, with cleaning duties taking up most weekends. At the same time, husband Damien pours the pints and helps with maintenance.
Being time-poor means Amie-Jo is reliant on having the right people alongside her, and she says that includes Crombie Lockwood as her insurance broker.
"With belts tightened, we had to reconsider what we could afford, what we could live without," she says.
"Times are trying, and we already have enough to struggle with and think about. The last thing you need to be worrying about is what could go wrong and how to cover it." – Amie-Jo Trayes
With the pandemic continuing to influence how businesses operate efficiently and survive, Crombie Lockwood Nelson broker, Rachel Foulsham, says that providing reassurance and practical advice remains crucial.
"Rachel at Crombie Lockwood was completely understanding," says Amie-Jo. "She offered support around making changes to our cover, as well as alternative payment options in case we needed them.