Rivercity Tree Services' Siobhan Marshall says winning multiple awards at this year's Te Manu Atatū Māori Business Awards goes to show just what any Māori business can achieve with solid principles and dedication.
Taking home the Environmental Excellence Award, Trade Services Award, and Westpac Supreme Award is testament to those principles.
"Getting the Environmental Award was a real bonus for us as we try hard to leave all of our jobs better than when we get to them."
"We're in this for the long haul, so we want to look after our environment for the future generations."
"Māori businesses have a point of difference, and this is to be celebrated and embraced." - Siobhan Marshall, Rivercity Trees
Respect, honesty and hard mahi at heart of Rivercity's success
The Rivercity Tree Services team are driven to grow the business. They have high standards of workmanship and pride themselves on treating each other like family. Joe Marshall, company founder, says the business genuinely cares about people's careers and help them to upskill, which results in a better business all 'round.
"We try to get the basics right – treat people with respect, be honest and work hard. We also lead from the front. Although my role has changed a lot over the years, both Pete [Ashford, Rivercity Tree Services' Civil Projects Manager] and I go out on the job where we can and do the mahi," he says.
"That's one of the reasons we've been able to win work for the councils and big companies: our ability to adhere to and respect the tikanga and kawa of the lands we are working on," adds Siobhan. "Māori businesses have a point of difference, and this is to be celebrated and embraced."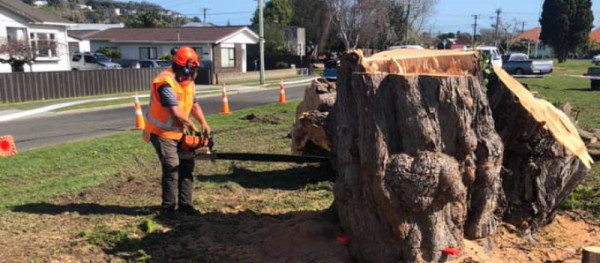 Personalised and proactive insurance advice
Having a knowledgeable insurance broker in their corner means Siobhan and Joe know they can focus on what's next with the business.
Any new risks or liabilities that might arise as their business grows are catered for by their insurance programme.
"It's about reviewing what cover they have now, but it's also about looking ahead at whether we need to adapt and change what we're doing for them in the next 12 months," says Crombie Lockwood Whanganui Broker, Teresa Falk. "Our role is to help businesses like Rivercity Tree Services make sure that they can do the job that they want to do."
"Whenever we've needed a claim sorted, Crombie Lockwood's onto it straight away" – Joe Marshall, Founder
"Having Crombie Lockwood sort what we need out quickly helps, and we have the confidence that all our insurance needs are met. They don't treat us like a client – they actually treat us more like friends, and they've always been one of the first to congratulate us on our successes."