18 June 2020
Keeping the milk pumping in Taranaki
The dairy industry is under a microscope, putting pressure on Kiwi farmers to exceed expectations while trying to make a viable income. But Taranaki innovator Steve Corkill continues to create new ways to meet those needs and improve how things get done.
If you're familiar with the dairy industry, chances are you'll have heard of the Varivac. It's a Corkill Systems Limited invention, as designed by director Steve Corkill.
"Varivac is an electronic controller for the vacuum pumps; it saves farmers around 40 percent in their dairy shed power usage," Steve says. "It was the first in the world of its kind when we released it back in 1996."
He trademarked the Varivac in 1999, but many have gone on to replicate it.
Born and bred on a dairy farm in Opunake, Taranaki, Steve completed his electrical apprenticeship with one path in mind – and it wasn't dairy. After working as an electrician on oil rigs throughout the Middle East, South Asia and in the North Sea in the 1970s and '80s, Steve returned home with his then-girlfriend, now-wife Rosie in the mid-1980s.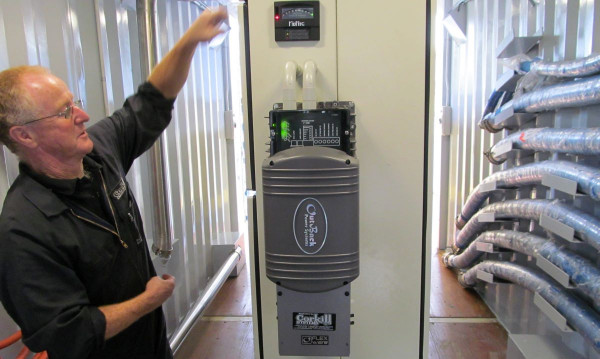 Driving dairy innovation
Steve started doing electrical contracting jobs for friends, but within a decade this had grown into a business with 17 staff. Steve sold Corkill Electrical Limited in 2001 to focus on his young family and work on his side interests.
"I was developing products for energy efficiency and milk quality for dairy farms," he says." That was essentially my hobby, so I retained two staff. We now have 12, including my son who is taking the business to new levels."
Now known as Corkill Systems Limited, the Taranaki company has helped drive dairy innovation in New Zealand, which Steve felt was behind the times in terms of automation.
"In the last couple of years with downturns in dairy and less income, dairy farmers are under more pressure," he says.
It's because of this that Corkill Systems focuses more on milk quality and distribution.
"[The industry has] taken a hell of a hit over the last few years," Steve says. "Markets are down, prices are down, and what we do is help the dairy business improve its margins and therefore make it more viable."
"We build pump stations to move milk for efficiency, for tankers picking up milk from farms," Steve explains." [Tankers] are limited in size on council type roads to 44-ton. So, we build pump stations for Dynes' transport subsidiary Bulk Liquid Solutions that smaller tankers go to, and then they move the milk into large 57- to 58-ton tankers to take the milk to where the processors can get the best value."
There are currently nine stations strategically placed around the country – from the bottom of Southland to the top of Northland – and a local one in Opunake of course – to get milk into long-haul tankers. Steve's team is currently building number 10 for a site yet to be confirmed for this coming season.
"We build them inside 40-foot containers so they're transportable," Steve says." The big ones are capable of moving three million litres of milk a day."
These big pump stations self-diagnose from their remote sites, cost less than a truck and trailer unit to buy, and can save up to six tankers and 18 drivers, representing huge savings.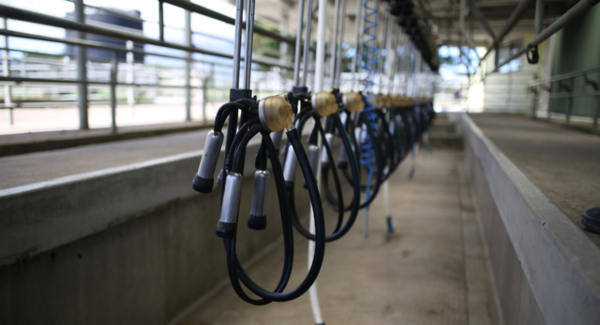 Improving milk quality by 'fixing things'
While the pump stations are Corkill's main focus, they also construct alternative power supplies and generators locally, along with a range of dairy-related control equipment and pumps for New Zealand, the United Kingdom and Australia.
The latest device is the Chillboost unit. It can be fitted to existing chiller systems to help farmers' meet milk cooling regulations. Another product is the Milkflow electronic controller for milk pumps in dairy sheds.
"People were pumping milk dry, aerating it. This is incredibly damaging to milk, causing up to eight percent damage to the milk solids, representing eight percent off what the farmers are being paid. That's the cream on the cake really when you're talking about profit on a dairy farm."
By inventing the Varivac and Milkflow systems, Steve highlighted a problem with the existing pumps, so he decided to design a pump specifically for milk handling. They're being used on everything from honey to tallow production.
"It's a traditional lope pump design but modified instead of 'high pressure, low volume', they're 'low pressure, high volume'," he explains. "The fundamental design has been around for 100 years, but not the way we build it."
Steve sees that he can fix things, rather than invent them. "I see a problem, think there's a better way to do it, and set out to make it happen."
By delegating tasks and outsourcing jobs, Steve says he has been able to move the business forward and not get bogged down in administration, like so many others do.
"Even the boss; if he's better with tools in his hand and having a job to do or a problem to solve, then that's what he should be doing. That's my philosophy."
Hence why he's been with Crombie Lockwood for over 25 years.
"Putting everything together into one insurance programme has helped us a lot. And there's just one go-to person, my broker [to deal with]," Steve says. "I trust them to read the fine print rather than me, because I just want to get on and do other stuff."
Related information