Crombie Lockwood is proud to be named as one of HRD (Human Resources Director) New Zealand's Employer of Choice 2021.
In May, HRD New Zealand chose Crombie Lockwood as one of only 21 companies to receive '5 Star' approval as an Employer of Choice. The company joins other organisations such as Chorus, Xero, and Coca Cola Europacific Partners New Zealand in receiving the award.
Small, medium, and large businesses across the country were assessed by HRD New Zealand for their achievements and initiatives across a range of areas that fall under the banner of human resources. The categories included leadership, learning and development, wellbeing, flexibility, diversity and inclusion, work-life balance, and recruitment, as well as acknowledgement of new challenges facing employers because of the global pandemic.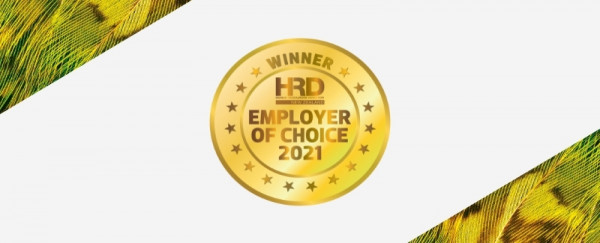 Initiatives for staff
To assess each business, judges took into account qualitative and quantitative data – proven results and feedback – derived from engagement surveys, and average employee tenure and turnover rates.
For the submission, Crombie Lockwood shared new and ongoing initiatives that are in place for staff, as well as highlighting onboarding survey results. These indicate that one of the top five reasons people join Crombie Lockwood is for career progression, showing that pathways that support the future of those who work at Crombie Lockwood are in place. This directly aligns with the company's employer value proposition to 'grow our people from within' and is further proven by a high average tenure of 7.58 years [2020].
It's great to see an award acknowleding our great people leaders and of course everyone who help shape our culture
Scott Cresswell, Crombie Lockwood Executive People and Culture
Work-life balance
Being a service-driven business where some areas operate 24/7, Crombie Lockwood pays particular attention to the work-life balance of employees as well. A local-level approach is taken here, tailoring roles to individuals. Last year's internal engagement survey indicated work-life balance as one of the top five areas where Crombie Lockwood is performing well.
The HRD New Zealand Employer of Choice award is an acknowledgement of Crombie Lockwood's commitment to creating a preferred work environment and highlights the high level of value placed on support for employees, as well as the company's continued effort to evolve and improve staff culture.