11 March 2021
Crombie Lockwood welcomes FSLAA
When the Financial Services Legislation Amendment Act (FSLAA) comes into effect on 15 March 2021 it will mark a significant new era for the insurance industry and advisors within. For Crombie Lockwood, the commencement of this legislative reform, with a new code of conduct, competence standards and obligations to evidence good client outcomes, is a welcome evolution. Chief Broking Officer Mark Jones shares his thoughts on the pending changes and explains why he believes FSLAA is good news for all.
"FSLAA is designed to raise the performance and the professionalism of the insurance sector, and that's not a bad thing," Mark says.
"It's no secret the insurance industry has struggled with consumer trust and a general degree of scepticism. We're optimistic the new legislation will help by increasing transparency and delivering greater reassurance to clients.
"As a business, Crombie Lockwood certainly feels this is the right path to be on. The industry is seeing new challenges arise and risks becoming increasingly complex so it's timely, and we're eager as brokers to play our part."
Mark acknowledges there was some initial hesitancy around what FSLAA would mean for the business but says concerns were quickly alleviated and the benefits soon realised.
"We've long been advocates for a 'client-first' experience because we believe high standards of conduct are part of doing good business.
"Strong processes, accountability and heightened competency are fundamental to success and that's what underpins this new regime." Mark says.
"We've welcomed the opportunity to look more critically at ourselves and reaffirm best practice standards."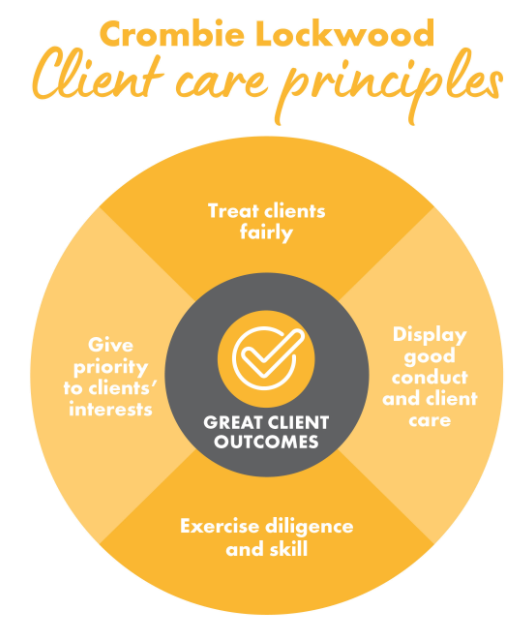 Mark explains that for Crombie Lockwood this has included formalising client care principles to ensure a consistent client experience, reinforcing client service expectations and bolstering client-first thinking.
He adds that while implementing new ways of working requires extra effort and there's going to be greater scrutiny, the reassurance and confidence the new approach gives to clients outweighs any of those challenges.
"We're optimistic that as we settle into this new way of working the emphasis to continually do better will result in more ingenuity and thinking about what we can do differently."
For Crombie Lockwood, with around 600 broking staff across the country, plenty of thought has already gone into what can be done differently, including what's needed to best support employees.
"Our diversity and size has meant we couldn't take a one size fits all approach and we've needed to deep dive into every corner of our organisation." Mark says.
"While we've not had to make any drastic changes, we want to do the best we can to set our people up for success and that's meant evolving a number of our processes, developing new tools and resources, and maintaining strong, regular, two-way communication.
"There's been a strong willingness to learn and it's been particularly pleasing to see the speed at which our brokers who didn't already have the Level 5 qualification (required by Advisors under FSLAA) have forged ahead to achieve it."
Looking at the changes made from a client perspective, Mark believes it will be business as usual for Crombie Lockwood, just with added peace of mind.
"We've long taken pride in providing the highest standard of service we can to our clients, it's embodied in our company mission and company values, and our client satisfaction measures tell us we're already doing a good job. Meeting our FSLAA regulatory obligations will further demonstrate our client commitment."