21 June 2021
Encountering challenges a way of life for Kaikoura tourism business
Encounter Kaikoura has been taking visitors sightseeing and swimming with the playful dusky dolphins in the wild for 31 years. But offering a world-class experience in the natural environment isn't always smooth sailing.
Encounter Kaikoura co-owner and Business Manager, Lynette Buurman says Kaikoura is famous for marine life, with the dusky dolphins – present in the area all year round – a star attraction for visitors.
"The dusky dolphins have proven to be the most amazing species of dolphin to interact with. They're very interested in socialising, they love boats and checking out the swimmers; they're very intuitive," she says.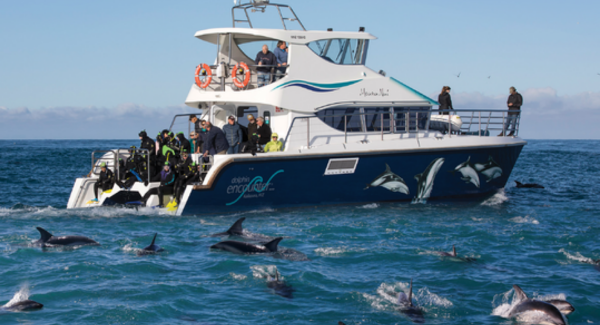 Encounter Kaikoura specialises in eco-tours that takes visitors to see and swim alongside dusky dolphins (lagenorhynchus obscurus), with the occasional sightings of orca and pilot whales all part of the adventure.
"Not only do the dolphins interact in the water, they put on amazing acrobatic displays, with somersaults, leaps and backflips. Spectating and swimming offer a really special opportunity."
Lynette has been running the business since 1992 alongside her husband and General Manager, Dennis, and Operations Manager Ian Bradshaw, who is one of the founders.
"When we first started, we didn't know the dolphins stayed accessible along the coast all year round," Lynette says. "It's grown in popularity and it's now regarded as the best place in New Zealand – if not the world – to swim with dolphins in the wild."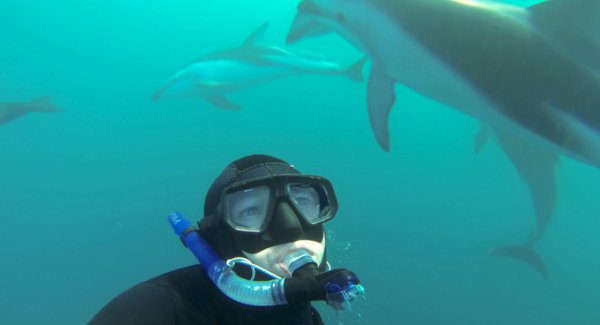 The team set up non-profit organisation Encounter Foundation in 2009 to back the company's ethos around conservation. Every year it supports research, educational initiatives and restorative habitat programmes to reinvest in the environment that provides their business with so much.
But operations dragged to a halt on 14 November 2016, when the 7.8 magnitude Kaikoura Earthquake rocked the community. The company couldn't trade for six weeks, and it took a year for normal business to resume.
"All the access roads in and out of Kaikoura were damaged," Lynette explains. "As well as that, our harbour facility was unusable because there was seismic uplift. The earthquake caused the earth to rise around the Kaikoura area, so there wasn't sufficient depth of water for vessels to berth."
Once the Encounter Kaikoura café and office were deemed safe again, and resources were back up and running, the company was only able to launch their boats at high tide. With such daily uncertainty, it limited their offering and schedule.
"We had to really swing into a whole different mode of business and deal with challenges that, honestly, you would never imagine would be part of dealing with a natural disaster."
With December the beginning of their peak season, Lynette and Dennis had over 50 staff ready to operate through to the following Easter.
"We managed to keep all our staff on. And we made sure to support our community where we could," Lynette says.
"During the recovery, we learnt a lot and relied heavily on our SmartPAK insurance cover we had arranged with Crombie Lockwood. We relied on our relationship with our broker to be there for us and guide us through the whole process.
"I don't know how we would have coped if we didn't have what we had in place in terms of adequate insurance cover."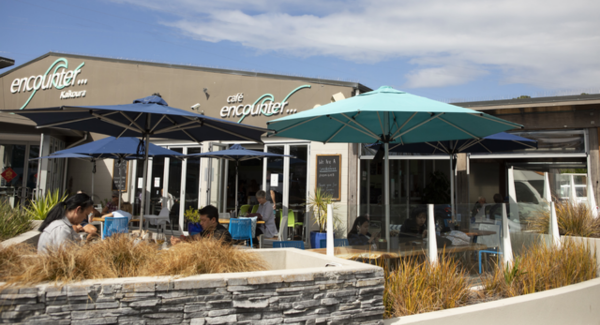 Having an evolving business that relies on nature, weather and sea conditions isn't easy. On top of that, as a tourism enterprise, Encounter Kaikoura has to be able to withstand whatever market downturns it comes up against.
"The Christchurch earthquake was another massive natural disaster that affected us because that's our visitor gateway in the South Island," Lynette says.
"We've had SARS, we've had the global financial crisis, we've had different flu epidemics and now it's coronavirus."
"I think you learn that after 30 years in operation you just find a way through," she continues.
"You make sound business decisions when times are good to get through the times that aren't so good."
In the end, Lynette says the tough times are all worth it upon hearing their visitors' positive feedback.
"When we have people coming back and saying, 'That's got to be one of the most incredible things I've experienced in my life,' you can't supersede that. We're just so thrilled we can offer it."