22 February 2021
Nurturing youth in Canterbury
Bros for Change is a Canterbury initiative that provides a supportive brotherhood, shares Aotearoa culture and teaches practical skills, all in the hope of giving kids the foundation to a happy life.
Co-founded in 2015 by Director Jaye Pukepuke, Bros for Change is a not-for-profit programme that provides a uniquely Kiwi approach to mentorship for young people.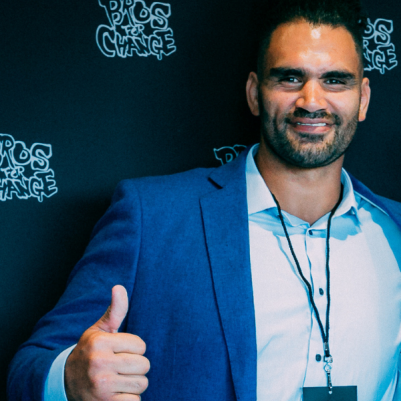 Jaye Pukepuke, co-founder of Bros for Change
Jaye met co-founder Tieki Kupenga when they were youth workers. Both found the system restrictive and wanted to do more to help kids.
"You can't just put a blanket programme on kids. We thought we could do it better," Jaye says.
"Bros for Change came from Tieki and me being the bros that just wanted to make the change."
Stepping out on their own was a leap, but they wanted to prevent kids from going down the same path they had.
"I used to play professional rugby league, and then I discovered a bit of fame, a bit of alcohol and then got a bit of an ego," Jaye shares. "That led me on a downward spiral. Long story short, I ended up doing six years in prison."
"Then, when I got out, I got a contract to go play in the NRL. But because I had that record, I couldn't travel, so it was a lost opportunity. Rugby League was my one thing and because of stupid decisions I could never see that aspiration through."
Jaye wanted to give kids the opportunity to build foundations, make the right decisions and fulfil their aspirations because "I was one of them. I was a kid who had all the potential in the world and nowhere to put it."
"We're real people who give real talk to make real change," Jaye says of the team at Bros for Change, made up of mentors, youth workers, an administrator and Board of Trustees.
"We're not there to make the numbers look good for funding. We're not there to put a plaster on and pat ourselves on the back for doing a good job. We want to invest our time, life, experience and education with these kids."
Bros for Change has two programmes. One is a mentoring pathway, and the other is Timatanga Hou, their flagship programme. Timatanga Hou takes roughly ten boys from all walks of life, generally between the ages of 10 and 24, through a six-month programme.
"We start off with a week away in the bush, and the purpose of that is just to build a relationship. We do a whole lot of 'boys' stuff. We throw sticks, sleep outside, play hide and seek and eat heaps of food," Jaye says.
They then look to improve their well-being, involving Māori performing arts, fundraising, gardening, and realistic goal setting.
"We do that by teaching them a bit about identity, reality therapy, and do physical training every day," he says.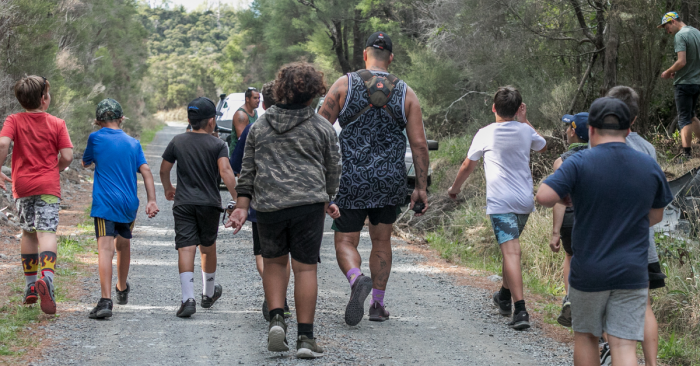 An example of the programme working can be found with Mana. Bros for Change took on then 14-year-old Mana in their 2017 intake. Coming from the foster system, where he experienced abuse, he lacked self-confidence. But he finished as their top warrior, moved on to be deputy head boy at school and continues to grow his list of achievements.
After a second camp that brings along a family member in the hope of forming stronger bonds, it's on to helping them with practical tools, such as writing a CV, obtaining a driver's licence, first aid lessons and digital technology courses.
"By the end of it the boys are well bonded, have learnt a bit of cultural identity and about themselves, they've got a full CV, new skills and goals, and hopefully [are ready to move] into tertiary or higher education, or work," Jaye explains.
"If nothing else, at the end of the programme they have a few fellas that they can always ring, a great experience, and a full stomach."
Often interpreted as being for "naughty kids," Bros for Change highlights the idea of us all being a product of our environment.
"If you look at them from another angle, you'll see something different. We should be looking at them and asking 'what's happened to you?' instead of 'what's wrong with you?'"
Mana's foster parents are incredibly supportive and "with a little boost from us, he's now going to live a fantastic life and be whatever he wants," Jaye says. Mana was one of the subjects of the 2018 documentary about Bros for Change Tell Me I Can't.
Bros for Change runs solely on funding and philanthropic donations. This year, the Government's Ministry of Business, Innovation and Employment (MBIE) youth training fund gave the initiative $510,000.
It's a significant donation to support the team's work, but when two six-month programmes cost around $360,000 to run, they need all they can get. Organisations like Kathmandu and Stoney Creek also align with the programme, supplying camping equipment for the rangatahi. Jaye and his team also sell Bro Wear to help fundraising efforts too.
"As a team, we endeavour to provide solutions that look after clients like Bros for Change. By helping them secure comprehensive and affordable cover, they can focus their energy and funds on other important aspects of their business," says Crombie Lockwood Christchurch Senior Broker, Michelle Price.
"For the past three years Crombie Lockwood has been proud to provide Bros for Change with an insurance package that supports the integral work they do in our community and region."
More information