When it comes to Wānaka's vibrant food scene, Muttonbird has fast become the talk of the town. The bar and eatery was opened in October 2021 by co-owners and chefs Jonathan Jackson and George Proudfoot, who were looking to put their unique spin on the resort town's culinary offerings.
Muttonbird specialises in beautifully presented share-style dishes featuring produce rarely seen elsewhere on menus today.
"We're taking lesser used cuts of meat – lamb necks, tongues, jowl – and making them delicious using mainly Asian flavours," Jonathan explains. "It's a symbol of what George and I have learnt through our cooking careers: me through living and growing up in Singapore, and George through grinding it out in Melbourne."
SMARTpak a 'security blanket' after fire
For some, Muttonbird's might be a daring menu. Opening the restaurant during the Covid pandemic and related lockdowns was also a risk. But there are plenty of risks in the restaurant business at the best of times, says Jonathan.
"There are so many things that can go wrong in a kitchen, and just as quickly as you make money, you can lose it. Having that security blanket in place is super important."
Unfortunately for the previous tenant, things did go up in smoke. A kitchen fire gutted the restaurant and resulted in a substantial loss to the business. But thankfully they were insured under SMARTpak, Crombie Lockwood's business insurance package for SMEs.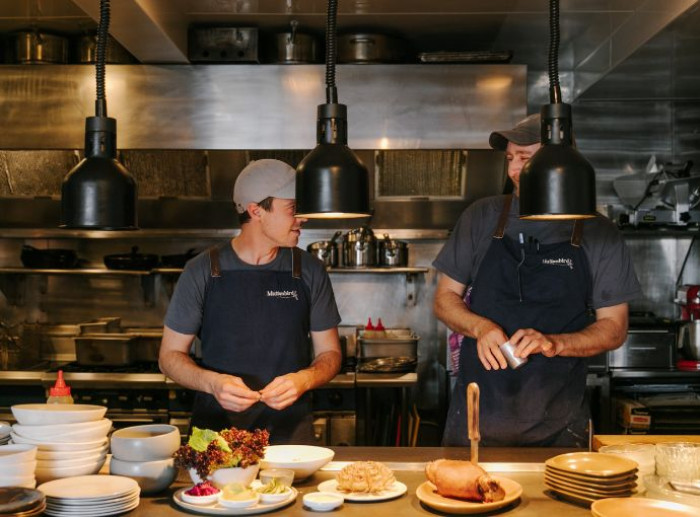 "Seeing how SMARTpak reacted to the previous tenants' fire claim, it was a no-brainer when it came to placing Muttonbird's cover," says Crombie Lockwood Wanaka Commercial Broker, Hamish Lambeth. "Without the $1 million blanket cover that SMARTpak provides around the material damage and business interruption, the previous tenants would not have reopened."
Johnathan says that the previous tenant's experience loomed large for him and George when it came to sorting out the burgeoning new restaurant's insurance cover.
"The old owner recommended Crombie Lockwood to us, so we took on the same insurance policy," says Jonathan.
For the time being, it's just George and Jonathan in the kitchen juggling the balance between working in the business and on the business, so it's a big help having Hamish local and able to drop in to talk things over.
"He even brought the whole team in for their staff party when we'd just started and were still struggling to get customers," Jonathan says. "We were really grateful."