Stronger, faster, more sustainable
Hector Egger NZ's panelised timber components are either engineered to meet NZ code or designed to be fully compliant with NZS 3604 building standards. The off-site, prefabricated production methods the used ensure higher quality at less expense, and faster completion.
"There are numerous benefits to off-site prefabrication," continues Tristan. "By taking construction into a controlled factory environment, we aren't delayed by adverse weather, we minimise waste, enhance construction quality and improve health and safety outcomes by reducing time on the building site."
Covered right around the world
Insurance broker Jackie Boyd from Crombie Lockwood Wanaka, began working with Tristan and Stephan well before the Cromwell plant was up and running.
In essentially replicating its Swiss operation 18,000km away, Hector Egger NZ needed the certainty of comprehensive insurance cover for the transport of bespoke fabrication machinery and untreated timber panels for its new building by sea, along with ongoing cover through the construction phase of its state-of-the-art factory.
"Before any of the components for the Cromwell facility left Europe, I worked with Tristan and Stephan to formulate the right insurances for the set-up phase," says Jackie. "We structured a comprehensive marine cargo insurance policy to get everything to New Zealand and also organised risk surveying during the construction of the factory, with emphasis on aspects such as fire security.
"Between helping Tristan and Stephan during the assessment and logistics phase, and then the 12-month build process, which was also interrupted by COVID-19 Lockdowns, I certainly felt like a Hector Egger team member by the start of operations in January 2021" - Jackie, Wanaka broker
Hector Egger NZ's 3,500m² Cromwell factory and office building is, in itself, a demonstration of the Swiss company's own construction methodology. Although the impressive clear-span factory is primarily built from steel and precast concrete, the adjoining two-storied 450m² timber office building was prefabricated by Hector Egger Holzbau AG at its Langenthal headquarters, before being shipped to New Zealand in six 40-foot containers and assembled within eight days of arrival on-site.
Together, the factory and corporate office building replicate the exact footprint of the company's Swiss premises, right down to the centimetre. The Central Otago factory's construction also followed the lean manufacturing processes Hector Egger has learned and refined across 20 years of operation in Europe.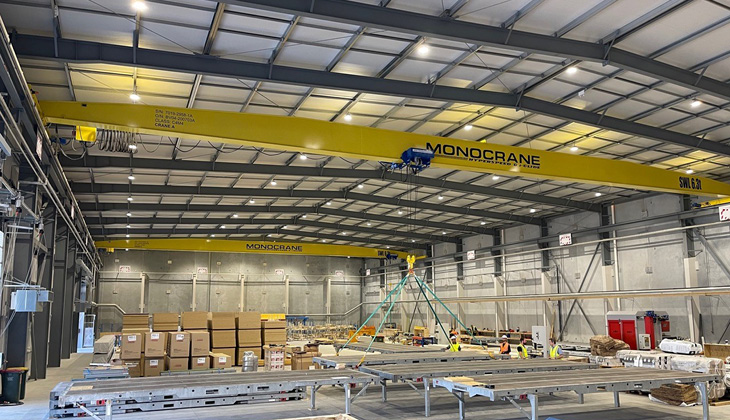 Inside Hector Egger NZ's impressive 3,500m² Cromwell facility
Construction materials for the future
Today, Tristan says Crombie Lockwood continues to assist with insurance cover on the ground in Central Otago.
"We have a big valuable asset in our factory, but we also need to have material damage cover in place as well, as we hold a lot of materials on-site in Cromwell. Offsite manufacturing revolves around precise forward planning, and key partners such as our primary timber supplier, Nelson Pine, work with us to ensure our factory always has the necessary production material resources," he says.
Timber construction has become distinctly on-trend in the building sector within the past few years, with a variety of high profile, multi-level timber buildings around the world showcasing significant advances in timber construction technology.
"With the Government's targets for the reduction of carbon emissions paired with the sustainable benefits of timber as an effective carbon sequestering material, we are seeing a move by architects to reduce the use of steel and concrete in New Zealand too," Tristan concludes.
"We have a busy order book well into 2022 catering for myriad projects, from social housing to high-end commercial and residential builds. The technology and methodology Hector Egger NZ utilises comes with so many benefits – we are looking forward to seeing more sustainable offsite manufactured developments rise from the ground in the months and years ahead."