Driving down a quiet Devonport side street, you might never suspect that in between the community creches, bakeries and hardware stores, sits a vibrant creative space designed to encourage arts in its many forms.
Based in the busy seaside suburb of Devonport on Auckland's North Shore, Depot Artspace is a gateway to a creative community.
Depot Artspace General Manager, Amy Saunders, says the facility really punches above its weight and, as a result, is much-loved and patronised by the locals. It has been a creative outlet for the local community for 25 years.
"It's an inspiring place to work because it is ever-changing. We've worked with thousands of artists over the years, and so, there is endless diversity within these walls," says Amy.
"Every community has a sports field, but not every community has an art space. Fostering community support for the arts is just as important. It helps to develop opportunities for all sorts of people to pursue all sorts of creative paths, and we want people in the arts to not feel alone; to be able to find their tribe.
In addition to the gallery space, the Depot Artspace team of 12 – supported by volunteers – also manage an on-site recording studio.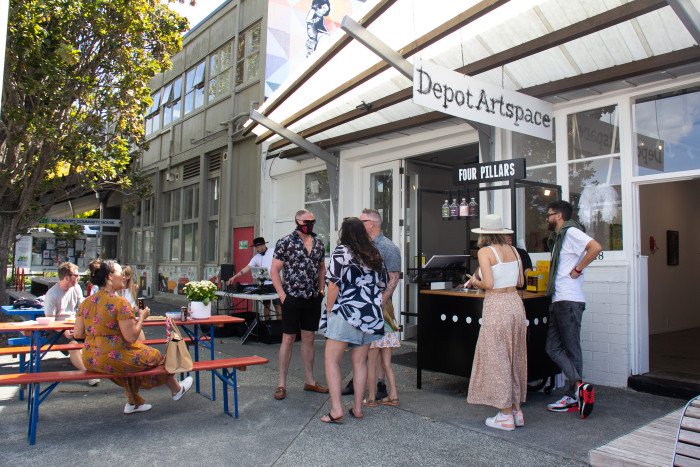 Business skills for creative careers
In order to help artists get to the point where they can enjoy a career that is as sustainable as it is artistically rewarding, Depot Artspace facilitates two mentoring programmes designed to focus participants on the 'business' of the arts.
The 'Wayfind Creative' and 'Artslab' programmes, which are funded by the Ministry of Social Development, look to give those in the arts the tools with which to futureproof their career. The goal is to empower participants to build non-creative skills in order to be more capable of directing the course of their creative life and building a sustainable future.
"The professional development programmes are a big component of what we do," continues Amy.
"The absolute last thing we want is for talented people to give up on their dream because it doesn't seem financially viable. The programmes give them the tools to manage the stuff that sits outside of the actual creative process."
"There needs to be a commercial aspect to what Depot Artspace does to ensure we survive. It's about balancing the need to attract investment while remaining creative.