We care what our clients think
What our clients think of our service and support matters greatly to us.
Your feedback helps us to continually enhance our business practices so we deliver the highest levels of client care and satisfaction.
Net Promoter Score (NPS)
We use Net Promoter Score (NPS) surveys to help us to find out how clients rate our service. NPS is a globally recognised customer loyalty metric used to measure client feedback.
Our survey is sent to clients from Perceptive, an independent research company, four months prior to insurance renewal and two months after the renewal. This way we can gauge 'how are we doing' and 'how did we do'.
Clients are asked: "How likely are you to recommend Crombie Lockwood to a friend or colleague?" The response options range from 0 (not at all likely) to 10 (extremely likely). The responses are then grouped into the following three groups: Detractors, Passives or Promoters.
The NPS score is then calculated by subtracting the percentage of clients who are detractors from the percentage who are promoters. This returns a score between -100 and +100.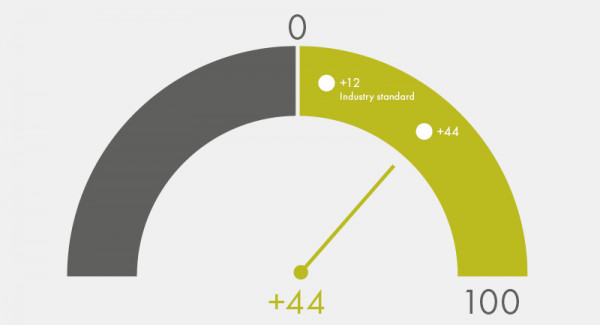 In 2020 we heard from over 6,000 clients and achieved an overall score of +44, more than three times the New Zealand insurance industry standard score of +12.